Press Release 2014
UOB Survey: Local SMEs Remain Bullish on Business Growth in Malaysia
KUALA LUMPUR, 6 January 2014 - A resilient domestic economy and better global market conditions have Malaysia's small and medium-sized enterprises1(SMEs) positive about their business prospects for 2014, according to the UOB Malaysia SME Survey2.
Seventy-two per cent of SME owners surveyed said they experienced positive year-on-year revenue growth in 2013, with the majority of them attributing the domestic economy as the main contributing factor.
The survey also found that more than half of the respondents (56 per cent) were bullish about their business outlook for the next three years. Forty-two per cent of SME owners said they were neutral on their business outlook while only two per cent of the respondents were pessimistic about the future performance of their business. Of those who felt that their business would perform well, 40 per cent attributed their optimism to the stable domestic economy while 22 per cent said it was due to the improving global economic landscape.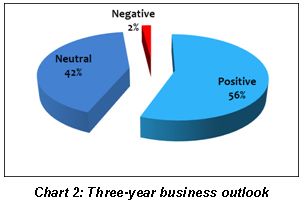 These largely positive views are supported by those of the UOB Economist-Treasury Research unit which expects Malaysia's gross domestic product growth to strengthen to 5.2 per cent in 2014 on the back of strong domestic demand, a rebound in exports and recovery in global economies3. Demand for Asian exports is likely to increase as a result of the economic recovery in the United States and consequently the US dollar will strengthen against most Asian currencies.
Mr Wong Kim Choong, Chief Executive Officer, UOB Malaysia said, "The improving global economic landscape is expected to contribute to a rise in external demand, not only for Malaysia but the region at large.
"While there are concerns in relation to the Malaysian Government's fiscal consolidation measures and the higher cost of operations given the anticipated increase in fuel, electricity and transportation costs, we believe that improving macroeconomic factors as well as the prevailing interest rate regime will sustain the positive sentiment held by Malaysian SMEs.
"In view of the current sentiment, it is now more important than ever to provide SMEs with access to financing that can help them tap opportunities domestically and within the region."
.............................................................................................................................................................................
1 UOB defines small and medium-sized enterprises businesses as enterprises with an annual turnover of between RM40million and RM200million in Malays
2 UOB Malaysia conducted a survey with 206 Malaysian SME owners across multiple sectors to seek their views on business and economic sentiment, and key business priorities for 2014. The survey was conducted in October 2013.
3 Economic Outlook 2014 – UOB Group Economic-Treasury Research, 10 December 2013

Copyright © United Overseas Bank (Malaysia) Bhd. (271809-K). All Rights Reserved.